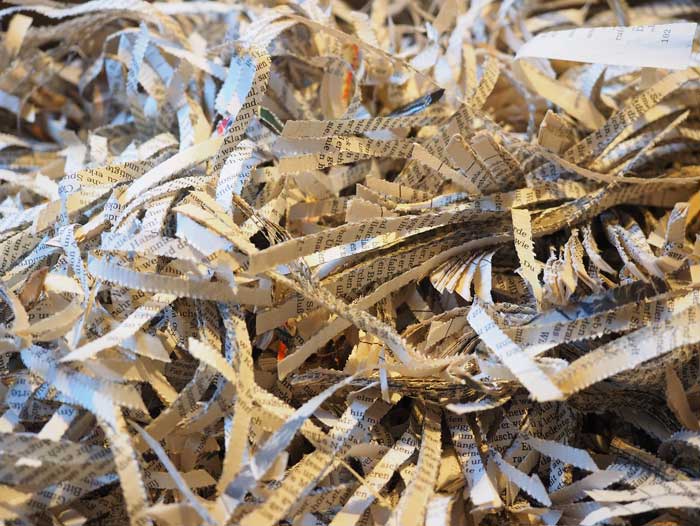 Let's be honest, official documents are important but they're only important if they're still relevant and much of the paperwork that businesses store in the office or that people keep at home is actually of date, not required any longer or completely irrelevant.
However, before you go filling the car and taking it to the local council run dump, just be conscious of what could happen if some of that information got into the wrong hands. Account details, passwords, dates of birth and postcodes are all important check points for financial arrangements that may still be live.
The best and most confidential way of destroying information such as this is by using the Grapevine Transport Document Destruction service.
Our shredding and data disposal service is perfect for both personal or business data for yourself, your business or your clients. Our specialist team can handle your needs safely, quickly and most importantly compliantly. We offer a full-service including collections and a guaranteed safe disposal that offers complete peace of mind. 
We offer a regular, consistent service as well as one off requirements. Once the job is completed you the customer will receive a certificate of destruction offering a guarantee that the job has been done properly, efficiently and completely in line with all data protection compliance legislation. We even make sure that 100% of whatever we shred is completely recycled. 
It really isn't worth taking a risk with this sort of service. The wrong piece of paper in the wrong hands could potentially cost you thousands and that's not always recoverable from banks and other financial organisations, especially where a degree of negligence can be highlighted. 
If you do need a document destruction service in the South West then please get in contact with us at Grapevine Transport on 01752 936066. 
We're happy to talk through the issue, we're happy to give you a price and then if you're happy we'll collect the documents and destroy them, making sure that you are the very last person to have any meaningful access to them.